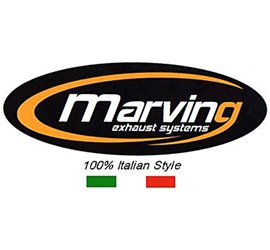 Marving Yamaha Xj 650 1980-
Y/2143/BC
Pipes - Raccordi - Cromo
Marving Yamaha Xt 500 1978-
EDR/10/V
Single - Edr - Verniciato
Marving Yamaha XT 600 1983/1989
EDR/11/NC
Single - Edr - Black
All best sellers

Marving H/120/BC Honda Cb 400 Four
Marving Honda Cb 400 Four
H/120/BC
Single - Marvi - Cromo
Free shipping in EU on all orders over € 399 (NO Canary Island - Malta - Reunion)
Marving Honda Cb 400 Four
H/120/BC
Marving Exhaust.
Fitting Kit included in the price. No modifications required.
European approval E3 Cap. 9.
Made in Italy (Cherasco - Cuneo - Piemonte).
1 other product in the same category:
Marving Honda Cb 400 Four
H/20/BC
Full Sport Exhaust System - 4/1 Racing - Cromo
Customer ratings and reviews
Reviews
By
Antonio A.
(Macerata, Italia) on 12 May 2019 (
Marving H/120/BC Honda Cb 400 Four
) :
Silenziatore appena arrivato e non ancora installato
Il prodotto appare ben costruito, esteticamente perfetto, realizzato con materiali robusti, cromatura ed imballo ineccepibili.
Peccato che la spedizione sia stata affidata al corriere BRT, che ha confermato la sua inaffidabilità ed il suo modo di fare menzognero!
Report abuse
By
Caesar D.
on 18 Dec. 2017 (
Marving H/120/BC Honda Cb 400 Four
) :