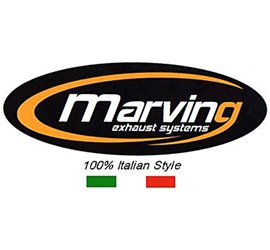 Marving Honda Cb 1100 F 1983-
H/5006/NC
Full Sport Exhaust System - 4/2 Master - Black
Marving Yamaha Xj 650 1980-
Y/2143/BC
Pipes - Raccordi - Cromo
Marving Honda Cb 900 F Bol D'or 1979-
H/5002/BC
Full Sport Exhaust System - 4/2 Master - Cromo
All best sellers

Marving H/2130/NC Honda Vfr 750 F
Marving Honda Vfr 750 F 1990/1993
H/2130/NC
Single - Cilindrica 114 - Black + Aluminium
Free shipping in EU on all orders over € 399 (NO Canary Island - Malta - Reunion)

MOST OF OUR PRODUCTS ARE BUILT ON REQUEST. CONTACT US IN ADVANCE TO REQUEST DELIVERY TIMES.
Marving Honda Vfr 750 F 1990/1993
H/2130/NC
Marving Exhaust.
Fitting Kit included in the price. No modifications required.
European approval E3 Cap. 9.
Made in Italy (Cherasco - Cuneo - Piemonte).
Customer ratings and reviews
Reviews
By
Espen R.
(Drammen, Norvegia) on 12 Oct. 2020 (
Marving H/2130/NC Honda Vfr 750 F
) :
Muffler
Ekselent service and the part come too me befor time.
Report abuse